Brooklyn Fit Chick Vlog Episode #81
Brooke Birmingham's "Best Week Ever," Louis CK Learns About "Fat Girls," Suzanne from Workout Nirvana
Plus: How to Shush a Constant Talker in Class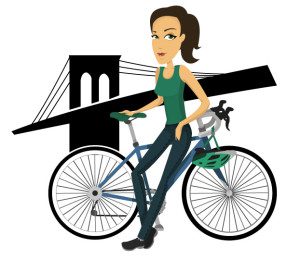 Hey there! Hi there! Ho there!
Sorry to post this so late but I had a few personal events in my life take over my weekend schedule and I am just getting back into the swing of things here. Anyhoo—today I have a few news items to get through and then a request for advice. So let's do this thing!
Brooke Birmingham: Wow! My Blogger Buddy has had quite the week! Brooke is the creator of Brooke Not On a Diet and if you do not know her story then you need to check out her site right away. In short though—I have to say I was completely (and happily) surprised to see that Shape magazine has offered to do a full story on Brooke in their magazine. This was supposed to be an online only feature but now they will be doing an entire article about what it is like to lose a great deal of weight. If you have not seen her Today show appearance—check it out here! http://www.today.com/video/today/55138807#55138807
Louis CK "So Did The Fat Girl": I am not a habitual viewer of the FX TV show Louis but I might have to check it out more often now I am hearing so much praise for his most recent episode "So Did the Fat Lady"( link) that I am going to check out back episodes. Please do yourself a favor a check out the 7-minute clip which features an amazing performance by actress Sarah Baker (if she doesn't receive an Emmy nomination for this I will lose all hope in humanity.)
Suzanne Digre "Workout Nirvana" Band Workout:  I just adore Suzanne Digre of Workout Nirvava and her outstanding workouts including this You Tube clip where she uses a band from Rubberbanditz for an overall full body workout.
How to Shush a Class Talker: My friend Tamara of Fit Knit Chick is a group fitness instructor and personal trainer based in the Vancouver area (you know I have a special love for Canadians, right?) She recently wrote about group fitness etiquette and how to deal with students who do NOT SHUT UP! I have had recent incidents in my own classes and honestly want to get your advice on how I should best handle this. What do you to maintain a quiet class? Please help me shush the constant talkers!
Now let's get to this week's Vlog (forgive the screen grab!)
That's all I have this week folks—see you next week with a new giveaway! (I know I said that last week but I mean it. NEXT week the giveaways will come back.)
Until next time…
Ox Ox,
BFC
Brooklyn Fit Chick
Follow me on Twitter: "BrooklynFitChik" (note the spelling!)
Instagram: BrooklynFitChick
Pinterest: BrooklynFitChick
You Tube: BrooklynFitChick1