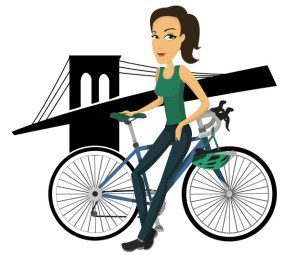 Brooklyn Fit Chick News & Notes
"Book vs Movie" Podcast Breakfast at Tiffany's Ep is Live!
 Fit Bottomed Girls "Tips for Your First Aerial Class"
Terry Bikes Spring Gear
Tap Genes: "Tips to Make the Gym a Happier Experience"
Something Rotten: A Very, Very Funny Broadway Musical
Hey there! Hi there! Ho there!
How are you all doing today? Today (as I am writing this) it is my birthday and I feeling happy about all things going on in my life right now. (Well, except for the noisy new neighbors who can't seem to move into a building without shaking every single apartment floor along the way! Sheesh!)
Anyhoo–here are my "news & notes" for the week. Enjoy!
Brooklyn Fit Chick News & Notes:
Book Vs Movie Podcast: This week my good friend Margo Porras of Shes Nacho Mama's Blog and me posted one of our favorite episodes of "Book Vs. Movie" (which you can subscribe to on iTunes with this link https://itunes.apple.com/us/podcast/bookvsmovies-podcast/id954110320?mt=2.) wherein talked about Breakfast at Tiffany's. The original novella by Truman Capote took place in 1943 NYC and the film directed by Blake Edwards (and starring the incandescent Audrey Hepburn) takes place in the swinging early 60s which is just one of many differences between book and film.
Margo and I originally recorded this back in September but had several technical issues at the time that are now thankfully gone (I am something of a wiz at editing it turns out!)  Hope you like the episode. Let me know what you think and if YOU have any ideas for future episodes. (Player embedded below)
Tips for Your First Aerial Class: Years of cycling have given me terrible hip and hamstring issues that would certainly be alleviated with aerial yoga of some sort. So I pitched this idea to Fit Bottomed Girls Tips for Your First Aerial Class to help me get inspired to try it out. (Have you ever done aerial workouts? Was it fun? Helpful?)
Terry Bikes Spring Gear: Speaking of cycling—about ten years ago I decided to get my workouts out of a spin room and into the open air (best decision ever!) I still have that bike (named Trixie because she is red & shiny) and quickly became obsessed with Terry Bikes which sells THE best bike gear for women. They have everything from seats that will be comfortable on a century ride to cute spring dresses that won't expose your knickers (unless that is your thing—no judgment here!).
A couple of years ago I pitched them the idea of having me be their first brand ambassador which means I help promote their sales and specials and then get to try out new gear—score! If you have any interest at all in Terry Bikes then be sure to sign up for their newsletter. They have so many excellent deals and giveaways. You will thank me later!
How to be Happier at The Gym: I know that for some people getting to the gym requires motivation and fighting the "I don't wanna go today" blues. In this feature I give my advice on how to get happier about the gym. What are your favorite tips?
Something Rotten is Going to take Broadway by Storm: Okay—if you are a fan of big, funny, bawdy musicals (Think The Mormon Musical or The Producers) then you must check out Something Rotten which features two actors from the TV show Smash (which I LOVED) Brian D'arcy James and  Christian Borle. The play is set England when Shakespeare is a huge theater star (a very sexy Borle) and a struggling playwright (a hilariously tense D'Arcy James) yearns to create the first ever musical on stage.
I went  to see a preview show for my birthday and had a total blast. One of the best times I have had as an audience member for sure–the crowd ate it up!
Let's say you know your fair share of Broadway musicals and love theater humor—this will show will fit the bill. It's in previews right now but I suspect it will be a big hit. (Dare I say a "smash?" Did you see what I did there?") Take my word—this show will up for a slew of Tony Awards!
That's all I have for today—keep checking back for news, reviews and playlists aplenty! Thanks as always for dropping by!
(If you are reading this on a different site or a different feed than Brooklyn Fit Chick, it has been taken without permission.)
Until next time…
Ox Ox,
BFC
Brooklyn Fit Chick
Follow me on Twitter: "BrooklynFitChik" (note the spelling!)
Instagram: BrooklynFitChick
Pinterest: BrooklynFitChick
You Tube: BrooklynFitChick1
Original article: Brooklyn Fit Chick News & Notes: @FitBottomedGirl @TapGenes @TerryBikes @RottenBroadway.